Weed Control & Fertilization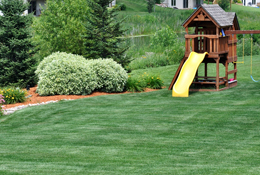 One of the keys to owning a healthy and beautiful lawn is regular lawn fertilization. Your lawn needs three elemental nutrients to thrive and survive the challenges it faces. Nitrogen, Potassium, and Phosphorus are these elements. Every lawn is different and the best blend of these three nurturing elements will differ from one lawn to the next.
The fertilization & weed control technicians at Green Hill Landscaping have many years of experience treating lawns of all shapes and sizes, and will formulate the best fertilizer mix to meet the specific needs of your lawn.
When it comes to lawn fertilization, as with many lawn related tasks, timing is of the utmost importance. An ideal fertilization schedule will vary depending on the type of grass you have planted on your lawn.
Lawn Weed Control and Fertilization Program: Eight applications applied annually. Lawns that receive regular treatments have fewer weeds, and are greener and healthier.
Give your lawn a great head-start for the growing season with our early season applications. Green Hill's special mixture of weed-killing formula eliminates weeds more quickly and is environmentally friendly. Since your lawn's needs change over the course of a year, we have created a comprehensive program that provides just the care needed at each point.
The Green Hill Landscaping Professional Lawn Care and Fertilization Program
Early Spring – Pre-emergent crabgrass control with a balanced fertilizer.
Spring – Post-emergent crabgrass control with a balanced fertilizer.
Preventive Grub Control – Protects lawn against grub damage. Please Note: 2X per application price
Early Summer – Broadleaf weed control, nutsedge control, balanced fertilizer.
Summer – Broadleaf weed control, nutsedge control, balanced fertilizer.
Late Summer – Balanced fertilizer to encourage rooting. Broadleaf weed control also to be applied.
Liming – Applications will be performed to help neutralize soil acidity.
Fall – Fertilization to stimulate root development and promote early Spring color.
 Note: Lawn Mowing Service a prerequisite, service not offered a la carte
---
Ready to get started?  Simply fill out our Free Estimate form.
Still have questions?  Contact Us and a representative will assist you with any questions or concerns you may have. For fastest service, call us today at 703-327-3271.