Models of Good Practices: Lawn Treatments in Vienna VA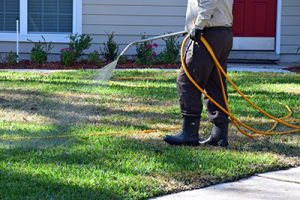 If you ever heard someone recommending you a generic chemical from the supermarket to fertilize your lawn and get rid of weeds next spring, politely pass and run away. We do not joke, unfortunately, because many homeowners, while experienced, managed to damage their properties due to the incorrect use of weed killers and soil fertilizers. The thrifty homeowners know they have to strategize ahead and prepare for spring. And what better plans to make than contracting our service of Lawn Treatments in Vienna VA?
What do You Want from a Lawn Treatments Vienna VA Company?
When you have to choose a lawn care provider, you probably want that company to know everything they can expect from working on your property and deal with the unexpected in a professional manner. Well, when it comes to our program of Lawn Treatments in Vienna VA, you have to know the following:
You will not see generic chemicals sprayed on your lawn under the title of seasonal treatments. Instead, you will see tailored blends of eco-friendly mixes. You will also learn that we customize our treatments depending on the size of your lawn, the turf species you grow, the other plants you keep, the weather, the soil's chemical composition, and the interactions between the elements on your property;
You will also see us eight times a year. Our creation, the eight-step Lawn Treatments program in Vienna VA, unfolds all year long, starting with pre-emergence weed control in early spring and ending with root strengthening and soil winterization in late fall;
You will not worry about the environment. Our substances follow the eco-friendly principles and are safe for the environment, people, pets, and wildlife.
We Offer the Following Lawn Treatment Services
Lawn Fertilizer Service
Crabgrass Control
Crabgrass Pre Emergent
Lawn Weed Control Services
Grub, Mosquito, Flea, and Tick Yard Treatments
And More!
How Does Your Ideal Service Provider Look Like?
If you are anything like us in our business relationships, you probably want efficiency, the lowest level of stress possible, the highest levels of professional ethics, perfect services, and affordable prices. We cover all these aspects and top them with:
More than ten years of experience in the area as a family-owned and locally-operated entrepreneurial venture;
Insurances and warranties that keep your property and our workers safe while we perform our job;
Highly-trained professionals and technicians in horticulture and agriculture, ready to deal with all common and unique aspects of your lawn care and maintenance needs;
The latest equipment and software to make our fleet and services run smoothly and your life more comfortable. We invest in outstanding customer support and in technologies able to organize and prioritize schedules, plan routes, coordinate our large fleet of crews, and export property specific notes so we are all in the loop;
We have a growing pool of happy and returning customers you can always consult regarding our reputation, reliability, and efficiency.
We run a very successful program of yearlong lawn management. We offer the broadest area of lawn and landscape services in the area, covering everything from lawn mowing to winter cleanup. In this way, we offer our clients more than disconnected and random services, but entire programs that ensure the lawn functions and thrives like a well-oiled machine.
If our service of Lawn Treatments in Vienna VA piqued your interest, give us a call and ask for a free estimate! We cannot wait for you to test us!