One of a Kind Program of Lawn Treatments in Fairfax VA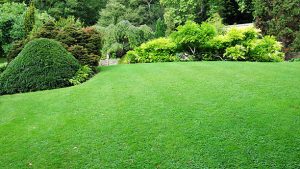 Many lawn care companies brag about their services, but how many times did you see that they were just using a "one size fits all" approach when it came to lawn care and landscaping? You may know a lot about property maintenance or you may know a little – but you do know that no doctor treats two patients identically and expects the same results. Today we will introduce you to our program of Lawn Treatments in Fairfax VA, explaining to you why it is the best thing money can buy in your area!
The Best for Responsible Homeowners: Lawn Treatments in Fairfax VA
People who love to spend their free time enjoying their lush lawns and gardens know that keeping such corners of Heaven safe and healthy requires a lot of work. Our company offers integrated lawn management services, from mowing to winter cleaning, insect control, irrigation, and more. However, we built our reputation on our personal program of Lawn Treatments in Fairfax VA and we will explain it to you immediately:
It is an eight-step program, covering all fertilization & weed control needs of your property from early spring to late fall;
We said it was not a "one size fits all" type of program meaning that we tailor it specifically for each client, even though we follow some general rules. The criteria we consider before we implement our program of Lawn Treatments in Fairfax VA are: lawn size, turf/grass varieties you grow, soil's chemical composition, irrigation and drainage, past weed control treatments, the presence of insects or of past soil amendments, and more.
In early spring, we start with pre-emergence crabgrass control;
During the year, we tackle problematic native weeds while we apply root enhancers and we stabilize the soil's pH by reducing its acidity;
In late fall, we apply one last root strengthening treatment to boost the health of the vegetation that will burst next spring;
The main concept behind our program of Lawn Treatments in Fairfax VA is "safety." We use balanced blends of fertilizers, we use substances that are eco-friendly, and we apply only the concentrations that cannot harm people, pets, other types of vegetation, or wildlife.
We start all over next spring.
We Offer the Following Lawn Treatment Services
Lawn Fertilizer Service
Crabgrass Control
Crabgrass Pre Emergent
Lawn Weed Control Services
Grub, Mosquito, Flea, and Tick Yard Treatments
And More!
The Best Company for Homeowners who Want Efficiency
Our pool of customers is large and continues to grow. Besides our program of Lawn Treatments in Fairfax VA, we also offer integrated services. People who want to get risk-free and comfortable yearlong lawn maintenance call us. We can deal with your property from early spring to late winter while covering everything you need.
Another reason why our customers love us is the fact that we always keep our word and we use hi-tech software and equipment that guarantee the best job done.
We work with insurance and warranties that keep your property and our team safe and we only work with trained professionals in their fields.
In other words, if you want the risk-free program of Lawn Treatments in Fairfax VA, together with our other lawn maintenance services, give us a call today and ask for a free estimate!