Expert Lawn Treatments in McLean VA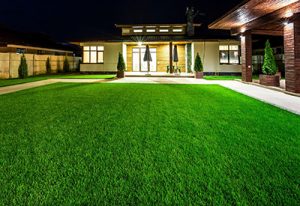 A picture-perfect lawn and landscape need constant care and management. Among all the problematic tasks you have to accomplish, fertilization & weed control is the hardest. If you do not know how and when to use certain substances, you can damage your lawn permanently. It is where we come in! Our experts in Lawn Treatments in McLean VA are here to tell you why you should leave this challenging problem in our hands!
We Evolved together with the Area
As a family-based company, we explored and learned the area before even thinking about starting our own lawn care company. Today, we top our 10+ years experience with the newest studies and research to offer our clients tailored and customized Lawn Treatments in McLean VA based on science.
We know how to treat native weeds and how to fight new invaders;
We understand that soil and vegetation go through changes with the seasons and we adapt each of our fertilization treatments to the specific situation and time of the year;
We understand that sometimes your soil needs a precise blend of substances, while other times we need to make different types of adjustments;
We built our reputation for understanding all lawn and landscape behaviors and responding with timely solutions to all problems.
We Provide Safe Lawn Treatments in McLean VA
As we said, we do not use the same recipe for all lawns, no matter their size, chemical make-up, turf varieties, or geographic positioning. On the contrary, we tailor our blends of substances to address weed emergence and soil nourishment needs in a safe, environmentally-friendly and tailored manner. If you heard some people burnt a lawn due to unnecessary chemical use, you know your Lawn Treatments in McLean VA company should put safety above all. Our treatments are mild with the soil, unforgiving with the weeds, and safe for people and pets as well.
We Offer the Following Lawn Treatment Services
Lawn Fertilizer Service
Crabgrass Control
Crabgrass Pre Emergent
Lawn Weed Control Services
Grub, Mosquito, Flea, and Tick Yard Treatments
And More!
We Offer a Year-Long Lawn Treatments McLean VA Program
Some may think homeowners have a weed problem only in spring and summer. They cannot be more wrong. Our eight-step Lawn Treatments McLean VA program consists of eight pre-scheduled applications that begin in early spring and finish in late fall.
While the early spring one begins fighting the pre-emergent native weeds that pop their ugly heads once winter is over, the late fall one deals with root enhancement, winterization of the soil, and preparations for next spring's colorful blooming of fresh turf and plants.
We Only Work with Professionals
The boy next door may mow your lawn once in a while, and you can tend to your flower beds in weekends, but the blending of substances with balance achievement and the correct applications should fall under professionals' responsibility. Luckily for you, we work only with educated and experienced technicians who know exactly what to do and when to do it.
You Can Always Test Us
You can believe our happy customers and trust them or put us to the test yourself. Call us, ask for a free estimate, talk to one of our representatives to assist you with your query, and give us a run for our money!