High-End Lawn Treatments in Bethesda MD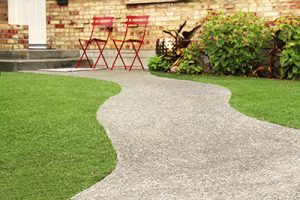 If you take a stroll around Bethesda MD, you cannot miss the gorgeous residential areas with their beautiful homes and lush lawns and gardens. If you just moved here, you are probably wondering what kind of magic these homeowners do that allows them to preserve such amazing green patches of paradise. The answer to this question is our Lawn Treatments in Bethesda MD program. Here are the things you need to learn about our services, to know what to expect if you desire to work with us as well.
State of the Art Services: Yearlong Lawn Treatments in Bethesda MD
With 10+ years of experience in lawn and landscape maintenance, our company built a solid reputation due to its custom eight-step approach to Lawn Treatments in Bethesda MD. Besides the fact that we are family-owned and locally-operated, we also collaborate with experts and technicians in fields such as horticulture and agriculture.
It is how we managed to tailor, test, and refine our popular eight-step program.
We know what weeds begin their lifecycle in early spring – this is why we usually start the program with an initial spring crabgrass pre-emergence treatment.
From mid-spring to late summer, we come down to your property to make sure there are no weeds or soil problems that threaten your lawn's health and beauty.
We know how the soil, the weeds, and your vegetation behave with the passing seasons; for this reason, we preserve the chemical balance of the ground all year round, we neutralize soil acidity when time comes, and we apply root enhancers in late fall to prepare the soil and vegetation for winter and the upcoming spring.
You also have to know that we use our mixes of substances. Do not trust anyone telling you to kill weeds with chemicals you find in supermarkets.
For the soil and vegetation to thrive and fight properly against invading weeds, you need our specific blends of fertilizers that we mix depending on your lawn size, turf and plant varieties you grow, and climacteric dynamic at the time of the application.
We Offer the Following Lawn Treatment Services
Lawn Fertilizer Service
Crabgrass Control
Crabgrass Pre Emergent
Lawn Weed Control Services
Grub, Mosquito, Flea, and Tick Yard Treatments
And More!
State of the Art Professionals: Why Should You choose us over the Other Guys?
There is no point in repeating that us growing up and working in the area gives us unique advantages over our competitors. Our clients choose to work with us for the following reasons:
All our services meet their needs and exceed their expectations, primarily since we practice excellent pricing plans;
Our service of Lawn Treatments in Bethesda MD follows the environmental principles of health and safety: we tailor our treatments, so they are harmless to the environment, wildlife, children, and pets while getting you rid of weed yearlong.
We operate with insurances and policies that protect our workers and your property;
We work only with the latest technologies, equipment, and software so you can always rely on our fleet, schedules, and logistics.
We offer integrated services – from lawn mowing to winter cleanups – to provide you with a no-fuss full yard and landscape maintenance.
If you want to work with us and want to put us to the test, give us a call, get a free estimate, and have our experts come down to prove their worth to you!