Excellent Lawn Treatments Reston VA Services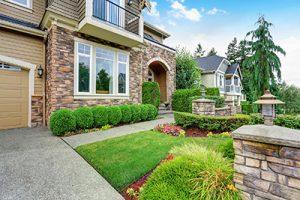 Thrifty homeowners usually strategize ahead when it comes to their gorgeous lawns and landscapes. Even if they mow the lawn, irrigate, prune shrubs, and apply mulch on a regular basis, they know some jobs require professional interventions. One such difficult task is fertilization & weed control. Mistakes have happened and people prefer working with a reliable company than risking burning or damaging their hard-worked turf and garden. Our experts in Lawn Treatments in Reston VA are here today to tell you about their one-of-a-kind treatment program available in your area!
The Unique Eight-Step Program of Lawn Treatments in Reston VA
Getting rid of the weeds threatening to take over your property means more than pulling them and spraying them with all sorts of chemicals. You may want our yearlong program of Lawn Treatments in Reston VA to work its "magic" on your property next year.
We know pre-emergence crabgrass control is mandatory in your area, so we start with this step very early in spring;
During spring and summer, our technicians will pay you more visits to tackle the problem of post-emergent crabgrass, grubs, broadleaf and nutsedge control, and root encouragement;
Liming is a separate step, as we want to add balance to your soil's chemical composition by neutralizing its acidity if necessary;
In fall, we end our program with a treatment dedicated to roots strengthening so your turf and plants can lay dormant happily during winter and emerge colorful in spring.
Our program of Lawn Treatments in Reston VA takes into account the following:
The size of your lawn, together with the varieties of turfs and plants you keep – we tailor our treatments and blend our substances having these criteria in mind;
The changes that naturally occur with the seasons passing, in your soil's chemical make-up, and the dynamic of the micro ecosystem on your property;
Weather conditions and climate modifications;
The health and safety of the environment, wildlife, people, and pets – all our applications are eco-friendly.
Why Else Should You Work with Us?
Should you choose to work with us? Here are more things you need to know:
We have more than ten years of experience in the area;
You will not have to deal with corporate nonsense, as we are family owned and operated;
We invest in the latest equipment to offer impeccable services from A to Z (including scheduling, billing, customer support, and additional services);
We operate under an "integration of services" principle – we offer everything your lawn and landscape may need from early spring to late winter. Our program of Lawn Treatments in Reston VA is just one service we offer besides lawn maintenance, landscape maintenance, organic gardening, pest control, and winter services;
We manage a handful of crews and tasks with the help of pro software for support, scheduling, fleet coordination, and more.
If you want to put us to the test and join our growing pool of faithful customers, give us a call and ask for a free estimate. We will be more than happy to offer our program of Lawn Treatments in Reston VA together with the other prerequisite services in our extended offer!