Spring Mulching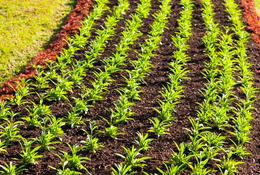 Prep Work & Mulching: Cleaning of weeds and debris from winter, re-defining bed edges, pruning plants & shrubs as seasonally appropriate, and the delivery and spreading of mulch.
The proper mulching of your flower, shrubbery, and trees landscape bedding will not only give your property a crisp, clean, and manicured look, but it will also drastically reduce the amount of time spent weeding, watering and fighting pests. Mulching also helps with erosion control as well as keeping dirt from splashing up on your flowers, home, and hardscape features when it rains. We can help you decide which type of mulch would be best for your needs, and we can calculate the amount your landscape needs. Best of all, we will install the mulch exactly and as it is needed.
Benefits to Mulching
Adds nutrients to the beds to help with healthy plant growth
Helps to reduce weed germination and growth
Helps retain soil moisture, protecting plants from drying out quickly
Reduces erosion
Moderates soil temperature fluctuations
Protects plant roots from winter
Mulch will give beds a uniform, well-cared for look
The Green Hill Landscaping Service Advantage
Spring Mulching: 2 Phases
Phase 1: Prep Work – Existing plants beds to be weeded and edged for definition. Pruning of plants and shrubs (less than 15 feet in height) will be performed as seasonally appropriate at time of service to maintain proper shape.
Phase 2: Mulch – Premium dark brown double-shredded hardwood mulch will be spread to maintain approx. 1-2″ depth throughout existing beds.
Note: As part of service, pre-emergent weed control to be applied for an additional charge
---
Ready to get started?  Simply fill out our Free Estimate form.
Still have questions?  Contact Us and a representative will assist you with any questions or concerns you may have. For fastest service, call us today at 703-327-3271.
---
Frequently Asked Questions about Spring & Fall Mulching
Do you remove the existing mulch?
Following the industry's best practices and standards, we aim to keep a layer of mulch of about 2-3 inches. In other words, we will add as much mulch is necessary for proper nourishment and protection. This procedure is the same when it comes to fall mulch as well. We do not remove the layer in fall either but work to supplement it.
What is a pre-emergent weed preventer? Why do you apply it to beds during spring mulching?
The pre-emergent weed preventer is a treatment helping with the reduction of weed growth in spring after we have installed the spring mulch. This treatment shows the best results when we apply it in spring or any period following the soil cultivation.
Do you spread a thinner layer of mulch in fall mulching vs. the spring one? Why?
As we stated before, we aim to maintain an approximately two-three inches base. In fall, after we complete the work, we also finish mulching with a thin layer that plays two essential roles: it adds a supplementary esthetic value to your yard and garden, making it stand out from the neighborhood crowd with its manicured look; it also ensures the safety and nourishment of the vegetation during the cold season.