Snow Removal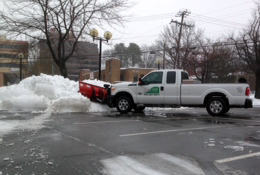 At Green Hill Landscaping, we continually monitor meteorological data to anticipate changes in the weather. When cold fronts move into the area, we're prepared and can help you be prepared, too. Green Hill makes training a priority to ensure the highest quality service and support for your home or business during hazardous winter weather.
Whether it's snow or ice, our technicians have the training and equipment to safely provide snow removal, plowing, and deicing, while ensuring you and your family can access your home. If you are a business owner you can rest a little easier knowing your customers can safely access your business without risking a fall, or injury.
Snow removal is one of the trickiest things to estimate before it happens because no two snow storms are alike. Accumulation amounts, timing of storm, materials used to break down ice, and snow type (dry, icy, wet) are all factors that can change the cost of snow removal.
dry (less difficult)
icy (more deicing materials needed)
wet and heavy (most difficult)
Approximate multiplier based on snow accumulation amounts.
Please Note: Icy conditions will require increased amounts of deicers, increasing prices further
1-4 in ~ 1x maintenance program pricing
4-8 in ~ 2x maintenance program pricing
8-12 in ~ 3x maintenance program pricing
12-18 in ~ 4x maintenance program pricing
18-24 in ~ 5x maintenance program pricing
24-30 in ~ 6x maintenance program pricing
30-36 in ~ 7x maintenance program pricing
36+ TBD*
The Green Hill Landscaping Service Advantage
Per Service
Clean driveway and pathway to front door. Deicers applied as needed.
*Price will vary depending on accumulation amounts and difficulty of storm.
*Lawn Mowing Service a prerequisite, service not offered a la carte.
---
Ready to get started?  Simply fill out our Free Estimate form.
Still have questions?  Contact Us and a representative will assist you with any questions or concerns you may have. For fastest service, call us today at 703-327-3271.