Mosquito Control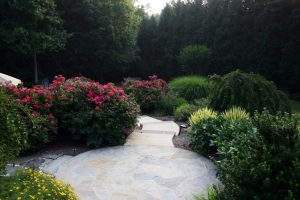 Are pesky mosquitoes and ticks ruining your outdoor enjoyment? As one of the leaders in mosquito control, Green Hill Landscaping offers top-of-the-line services that will help you take back your yard. Our friendly and knowledgeable staff can help you rid your lawn of mosquitoes.
Stop the Bite and Enjoy Your Yard Again
Mosquitoes are resilient pests that will not only ruin your outdoor experience, but also carry dangerous vector-borne diseases. Applied by our professional applicators around your home and throughout your backyard, this acclaimed, trusted and dependable mosquito control solution eliminates mosquitoes.
Green Hill's Mosquito Control protects your family (and pets) from the nuisance and danger of mosquitoes by focusing on the areas of your property where mosquitoes are most likely to feed and harbor. Once applied, our mosquito treatments provide even greater protection as mosquitoes attempt to feed off your greenery, as the residue from the treatment will knock them down too.

Professional Mosquito Control
Per Application (5 applications per year)
Applications to be applied to the adult mosquito harborage areas, treating plant foliage and mulch areas. Treatments to be applied approx. 4-6 weeks apart when seasonally appropriate.
---
Ready to get started?  Simply fill out our Free Estimate form.
Still have questions?  Contact Us and a representative will assist you with any questions or concerns you may have. For fastest service, call us today at 703-327-3271.