Gutter Cleaning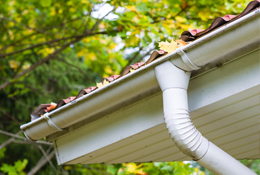 Rain gutter cleaning is a messy job, however someone has to do it. There are a lot of people who prefer to do things on their own and this is good, but gutter cleaning isn't exactly straightforward and it must be done by professionals. By working with an expert gutter cleaning company you can avoid a great deal of hard work, and potentially save yourself a lot of cash on costly water damage repairs. Not to mention avoiding the dangers of climbing a tall ladder, and possible emergency room visits.
Green Hill provides professional gutter cleaning services to both our residential and commercial customers. Protect your home or business from the devastating effects of water damage that can occur when clogged gutters are not cleaned and are not draining properly.
This isn't something you probably think of frequently, and you shouldn't stress over it everyday. All you need to do to ensure you're peace of mind, is simply to observe the recommended maintenance standards for your property. If you do that, you can ensure your gutters have a long lifespan and continue to safeguard your house from water damage for years.
Cleaning Out Your Rain Gutters Will Extend Their Usable Lifespan
The rain gutter and downspout system on your home has a finite lifetime. That's the problem. Fortunately though, while that life is finite, it can be extend by many years when your rain gutters are cleaned on a routine basis. If you don't make regular gutter maintenance a priority, then you are definitely going to end up shortening the life of your rain gutters.

The Green Hill Landscaping Service Advantage
We will clean gutters of all leaves and debris as needed. Our service consists of quarterly (Approximately: Late Spring, Summer, Mid Fall, Early Winter) visits to ensure your gutters and drains remain clean all year round.
---
Ready to get started?  Simply fill out our Free Estimate form.
Still have questions?  Contact Us and a representative will assist you with any questions or concerns you may have. For fastest service, call us today at 703-327-3271.
---
Frequently Asked Questions about Gutter Cleaning
What is the proposed schedule for gutter cleaning services?
We aim to offer this service four times a year. In late spring, we remove and clean vegetal debris (resulted from trees, shrubs, plants, etc.). In summer, we offer post-summer storm cleanups of fallen leaves, twigs, branches, and other vegetal debris. In early fall, our service focuses on leaf cleaning to reduce the amount of debris risking clogging your gutters. In late fall we finish the operation by removing all fallen leaves, thus preparing your gutters for winter.
Can weather affect the timing of this service?
Weather (rain, excessive moisture, freezing conditions, storms, etc.) will have an impact on our ability/progress to clean your gutters.
Do you have the certifications necessary to provide gutter-cleaning services?
We carry both licenses and insurance policies that cover this service.
Do I still need gutter cleaning services if I have gutter guards?
Unfortunately, your gutter guards do not prevent leaf and vegetal debris building up on the roof or the top of your gutters. In this case, you will need professional gutter cleaning services.