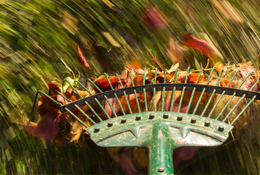 We provide leaf cleanup services and other property clean-up services for the fall. By cleaning up those unsightly, dead leaves, you will be able to better enjoy your landscape during the winter months. Also by removing the dead leaves, your hardscapes, driveway, and walkways will need fewer cleanings as they will have less dirt and stains that would have been caused by decaying leaves. The fall can be a little overwhelming to a property owner, as there is so much to do for your landscape. Call Green Hill Landscaping to give you a helping hand.
Benefits to leaf cleanup
Cleaning up the leaves allows sunlight to get to the grass, promoting better growth
The area under fallen leaves stays damp and is a breeding ground for fungus that can be damaging for the grass
Benefits to mulching/shredding leaves
Shredding leaves into the grass improves your soil, and adds nutrients to help with healthy grass growth
Recent studies show, mulching leaves into the grass increased microbial activity and had better water filtration
Another recent study showed, when leaves were mulched into the grass, the grass greened up quicker, and also had fewer dandelions in the Spring
The Green Hill Landscaping Service Advantage
Per Year (Oct-Dec)
Oct – Clean/shred leaves from lawn areas with each visit (approx. every 2 weeks, weather pending)
Nov-Dec – Clean/shred leaves from the lawn, mulched beds, and hard surfaces with each visit (approx. every 2 weeks, weather pending)
---
Ready to get started?  Simply fill out our Free Estimate form.
Still have questions?  Contact Us and a representative will assist you with any questions or concerns you may have. For fastest service, call us today at 703-327-3271.
---
Frequently Asked Questions about Fall Leaf Clean Ups
What is the best time/season for this service?
We typically plan this service for our clients starting with the middle of October. We will keep making rounds on a bimonthly schedule (approximately every two weeks) through mid-end December. It will ultimately depend on the weather, however, as each season can show its specific makeup of rain, moisture, wind, storms, freeze, and more.