Bed Weeding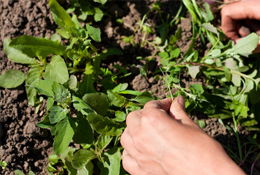 A beautiful lawn, and well thought out landscaping is a joy to many homeowners, but shrub and flower bed weeding can be a real challenge. Locating the root cause of weeds and removing them can be a long and tedious task without the assistance of trained professionals. Lawn care and Landscaping are our specialties, and we are committed to providing you with the results you desire.
Enjoying the beauty of your lawn and landscape is one of the joys of home ownership. Any investment that you put into improving the health and appearance of your lawn will pay for itself in increased property value and a richer day-to-day quality of life.
The Importance of Shrub & Flower Beds Weeding
Weeding is an essential part of landscape maintenance. There is no reason to have a beautiful landscape design, if it is not properly maintained and free of ugly weeds. Green Hill Landscaping will provide you with timely and professional maintenance of landscape beds throughout the growing season.
There is a delicate balance involved in creating the ideal circumstances for the growth of what you want to see in your lawn without providing an environment that is fertile for weeds as well. We know and understand exactly how to strike this balance, and the results that we have delivered time and time again for our clients speak for themselves.

The Green Hill Landscaping Service Advantage
We will perform weeding of established shrub and flower beds throughout the growing season (May-Oct) as needed. Our bed weeding is generally performed approximately every 7 to 14 days to ensure your beds remain free of all unwanted weeds and growth.
---
Ready to get started?  Simply fill out our Free Estimate form.
Still have questions?  Contact Us and a representative will assist you with any questions or concerns you may have. For fastest service, call us today at 703-327-3271.
---
Frequently Asked Questions about Vegetation Bed Weeding
How do you schedule bed weeding?
We usually begin in May. The service stops in October. The exact timing, however, can depend on each season's weather conditions.
How often do you perform bed weeding?
We schedule this activity to take place every week or two weeks (every seven or fourteen days approximately). As per usual, the operation is subjective to variations, depending on the weather each season.