Seasonal Flowers
Seasonal flowers give your lawn and landscape a fresh breath of life and color. Green Hill Landscaping can take care of all your seasonal planting needs. From designing attractive flower bed arrangements, to installation and maintenance of your floral garden, we can make your lawn the envy of your friends and neighbors.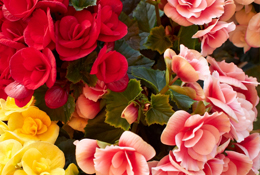 Spring and Fall Rotation. Annual flowers can provide landscaped areas with more seasonal variety and colorful accents than most other plants. The key to success with annuals is to plant only the area that can be adequately cared for. Color can have more impact on the landscape than any other design element.
The key to healthy plant growth is proper soil preparation. We start by incorporating  organic matter into the garden soil to improve soil texture, aeration and drainage.
We will clean up your seasonal flower beds and containers of dead flowers, leaves and weeds.
We deadhead the plants to remove fading flowers and enhance growth and new blooms. Most annuals and many perennials will continue to bloom throughout the growing season if they are regularly deadheaded.
We can also provide fertilization, weed, and pest control to improve the look and health of your flower beds.
Seasonal Flowers (Spring & Fall Rotation)
Per Rotation (Spring, Fall)
Premium seasonal flowers (Spring-Lavender Vinka, Fall-Purple/Yellow mixed Pansies) to be installed in mulch beds to add seasonal color.
Note: Flats to be installed (6″ Pots – 6 Pots per Flat)
The Green Hill Landscaping Service Advantage
We offer premium seasonal flowers, like Lavender Vinka in the Spring, and Purple & Yellow mixed Pansies in the fall to be installed in mulch beds to add seasonal color. You can leave the entire process up to us, or we can put together a detailed planting plan if you have specific needs.
---
Ready to get started?  Simply fill out our Free Estimate form.
Still have questions?  Contact Us and a representative will assist you with any questions or concerns you may have. For fastest service, call us today at 703-327-3271.
---
Frequently Asked Questions about Seasonal Flower Installation
What is the right timing of the spring and fall flower installations?
The flower installation rotation is as follows: in spring, May to June; in fall, September to October. What you need to know is that timing can vary seasonally, depending on the weather or the occurrence of certain weather phenomena.
Why type of flowers do you plant each season?
In comparison to other companies, we grow and nurture our flowers locally. For the 2019 colors, we have prepared Vinka (Lavender) for spring, and Pansies (yellow mix and purple) for fall.
How many pots of flowers per flat do you recommend?
We suggest eight (8) 6-inch pots per flat.
Where do you install the flowers in a landscape?
Flowers should be visible and entice you and your guests with their colors and scents. Depending on your landscape design, we will install flowers where you can benefit from their maximum potential. High traffic areas within your landscape are excellent choices.