Landscape Lighting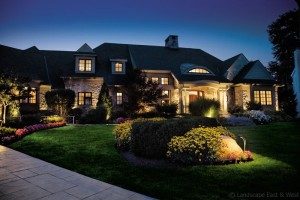 You've installed your landscape lighting system, now is time to relax and enjoy it, right? But what happens if something goes wrong? Landscape lighting requires periodic maintenance to ensure its beauty, functionality, and reliability.
The way we see it, your time is valuable. That's why we have a team dedicated to providing outdoor lighting maintenance and repair services. Regular maintenance keeps your exterior lighting system performing and looking it's best for years to come.
We Will Clean All Lenses
When the lenses on your lighting fixtures are covered in a dirty film, their power can be diminished. This can lead to uneven or dim lighting. We will carefully handle all of your lighting fixtures as we clean each lens delicately. We will ensure every fixture is clean and clear of any film as part of our lighting maintenance plan.
We Will Adjust Fixtures
When we visit your property to perform maintenance on your lighting system, we will adjust any of your fixtures as needed. Our technicians are extremely friendly and dedicated to your satisfaction. If you have any questions about your lighting system or you have a specific request for adjustments to be made, do not hesitate to talk to our staff about these needs. We will be happy to discuss your options.
Lighting Check Up. Our maintenance program consists of thoroughly checking every aspect of your system on an annual basis. Our team will check your timer for proper settings including:
Verify Current
Verify & Adjust Turn On and Turn Off Time
Check Photo Cell for Functionality
Clean Lenses (in ground applications)
Adjust Light Positioning (if necessary)
This annual service ensures your lighting stays beautiful and worry-free all year. We can provide the maintenance in a convenient and timely manner, making your outdoor lighting maintenance one less thing you have to worry about.
---
Ready to get started?  Simply fill out our Free Estimate form.
Still have questions?  Contact Us and a representative will assist you with any questions or concerns you may have. For fastest service, call us today at 703-327-3271.